prince: 7 iunie 1958- 21 aprilie 2016. pentru mulți dintre noi, vestea că prince s-a dus și el la stele, să le ademenească cu muzica lui, a căzut ieri din senin. pentru mulți, prince este un necunoscut, știu. și, cu toate acestea, probabil că în zilele ce vin, așa cum a fost și în cazul lui whitney houston ori michael jackson, ca să dăm numai două exemple ale muzicii, ne vom trezi cu valuri de fani înlăcrimați brusc și dintr-o dată.  ca și atunci când whitney s-a stins, singură într-o cameră de hotel, și prince s-a dus la stele de unul singur, în casa lui. prea repede. iarăși, parcă totul este prea repede…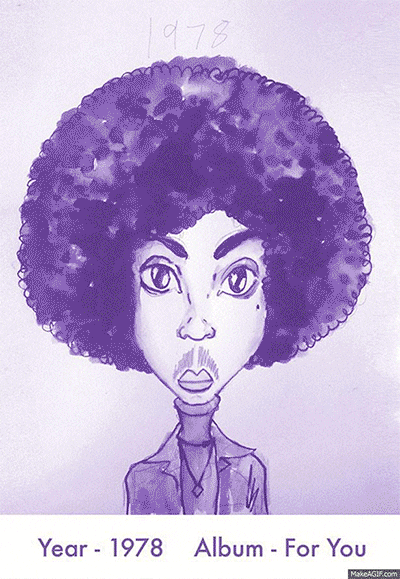 generația mea a crescut cu purple rain, cu diamonds and pearls, cu cream și cu o grămadă de mirări privind artistul micuț de statură și atât de mare în genialitatea lui. generația mea l-a cunoscut pe prince, compozitorul care a scris nothing compares to you (cântec pe care cred că toată lumea îl știe în varianta lui cea mai celebră, cu sinead o'connor). născut în același an cu madonna, michael jackson, gary oldman, annette benning, andie macdovell, sharon stone, angela basett, simon le bon, andrea bocelli, kevin bacon, michelle pfeiffer, alannah myles sau eric singer, prince a fost întotdeauna excentricul, numit de fani TAFKAP (the artist formerly known as prince). puțini mai știu de alexander nevermind, de jamie starr, christopher, joey coco, paisley park sau celebrul său semn, O(+>. o grămadă de alte nume sub care a strălucit el, muzicianul, omul. oricum, toate acestea vor fi scoase la lumină din nou acum, în goana după senzațional, vom scotoci din nou, curioși, prin viața geniului, ocupați să aflăm cine a fost de fapt, de ce a murit ori cine știe ce alte amănunte ar putea ieși la lumină.
mă gândeam aseară, ascultând she's always in my hair, la solitudinea omului care a compus manic monday (bangles). prince. sau oricum îl vom fi numit vreodată. mă gândeam la faptul că 1958 a dat lumii niște nume mari și că s-au grăbit parcă să ardă cu toții, să strălucească și să apună. atât de repede. de ieri, printre stele se aude muzică nouă. poate că prince va mai dansa împreună cu michael jackson acolo, sus, poate că vor compune împreună, dar va fi imposibil să-i auzim. de ieri o altă singurătate s-a sfârșit, un alt tren de mare viteză s-a oprit pentru totdeauna.
am renunțat să caut răspunsuri la întrebarea de ce, astăzi spun doar atât: prince, nothing compares to you. and… doves cry…i wish you heaven. și, poate mai bine decât mine, ne definește tristețea astăzi bogdan.